From the Austin Chronicle
Tenth disc in two decades-plus, Hey Funky You isn't your typical ATX singer-songwriter fare. The big Beck bomp of her opening title track gives way to a sui generis mix of originals and covers of songs from Sarah McLachlan, Chris Thile & Gary Louris, and a pair of Concrete Blonde Bloodletting offerings. Think ZZ Ward for the Triple-A set. – Raoul Hernandez
"Ginger Leigh, your voice is so strong and so true and I love the way you capture music and make it yours. I especially loved watching you and your band play with so much joy and love for what you do. It literally poured out in every note you sang and played. Thank you!" - Sofi
Hey Funky You, Ginger Leigh's 10th release, is a joyful, crank-it-up, mix of funky pop, jazzy throw-backs and heartache rock ballads. Highlighting Ginger's powerful vocal stylings, the music is contemporary adult pop rock and will keep you moving & moved.
"Ginger Leigh has a voice so powerful and lyrics so visceral, you can't help but feel a little better about the world just listening to her. Her confident stage presence is both soothing and exhilerating. A prolific writer and unflappable performer…" – Origin Magazine (National USA Distribution)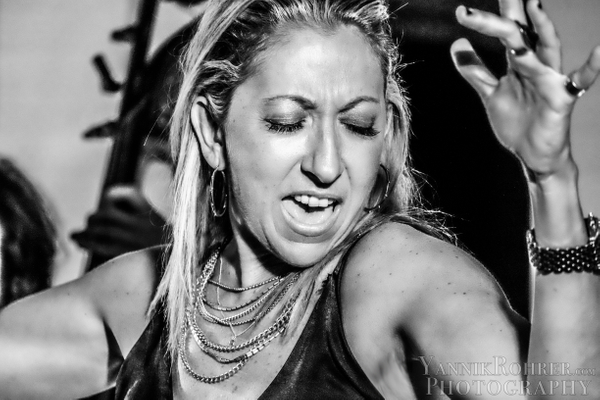 Ginger Leigh is ranked #1 on the Reverbnation Pop charts for Austin, #15 Nationally, and #18 Globally.
Ginger Leigh is in the top 300 global artists, ranking at #88 by Deli Magazine.
Ginger Leigh is currently recording her 10th CD and has toured the globe with her music.
Ginger, Oh, Ginger. A little bit cornball, a little bit rock-n-roll. Classy, sassy and in control, Ginger Leigh owns the room, is playful with the audience, delivers a rock song with grit, a big vocal ballad with emotion, a sex appeal with style. Her version of contemporary adult pop is like no other. You can find her solo with an acoustic guitar at a folk listening room. You can find her big and loud at a rock club. You can find her with her audience eating out of the palm of her hand at a theater concert. Above all, Ginger Leigh is a chameleon like no other. She is a social tigress. A philanthropist, actress, writer, adventurer and business woman.
"There's a line in a Bonnie Raitt song that unbeknownst to Raitt, describes Ginger Leigh's style as a musician and performer perfectly: "She's a walking contradiction." Leigh struts out on stage, part Bette Midler vamp, part Gibson SG axe swinging rock star. As one of the reigning divas of the Austin Indie scene, Leigh combines her on-stage cabaret antics with soulful lyrics and passionate delivery."
Marquee Magazine, Colorado